Y

ou are only young once, but you can be immature for a lifetime.

- John P. Grier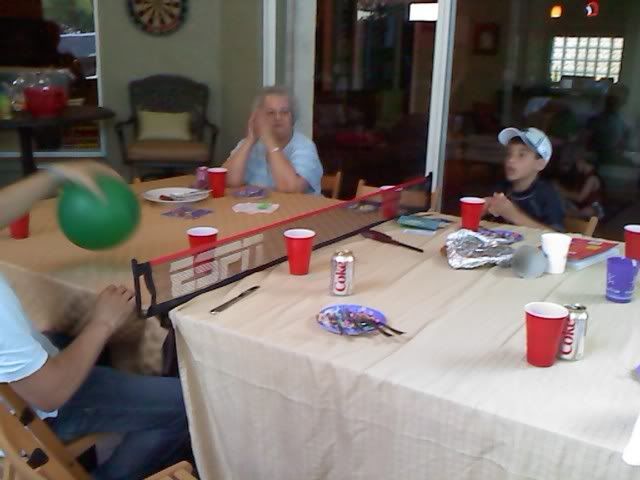 Sunday, the whole family gathered around the Schneider's ping-pong table) (more about that later) to celebrate Josh and Hope's Birthday. When we got there Alan and Josh were already in the pool while Caleb and Hope were inside the house. Heather, George, Andrea, mom & Dad arrived shorty after with more food in tow.
While they were unpacking, I explored the house a little. Hope had made some changes since my last visit and I wanted to see the progress. The tile in the master bathroom had been re done and was beautiful. It flowed from the floor up onto the wall in the shower and the garden tub area. After that I went in to Hope's office. Nothing had changed in there, but it is my favorite room in her house and I take every chance to go in there as possible. I noticed her scrapbook from 1996-2003 so I took it out on the back patio where everyone was by this time and began looking at it.
After a short walk down memory lane, we started setting up for dinner. We decided to make use of the ping-pong table that was already on the patio instead of dragging out the long tables for dinner. Hope covered it with table cloths and I grabbed the chairs to set around. All 13 of us fit perfect. After dinner, we had Lemon cake and Hope an Josh opened gifts. Josh was given 25.00 cash and 50.00 in gift certificates to his favorite sports store to bu a new Football Jersey. Hope was given a gift certificate for a Pedicure and Manicure and a bracelet withe a beautiful saying about mothers. We cleaned up and the cleaned up and called it an evening.